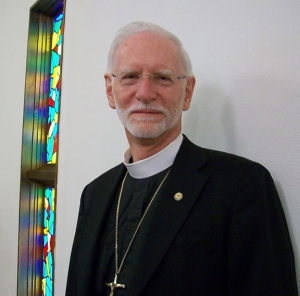 Pastor Gregory Schultz
D
ivine Savior Lutheran Church is an unaffiliated congregation of the historic Lutheran Confessions. We subscribe to the Holy Scriptures as the inspired, inerrant Word of God as the only source and norm for faith and life, and the Lutheran Confessions (
Book of Concord 1580
) because they are a true and correct exposition of God's Holy Word.
The worship at Divine Savior is orderly, reverent, and Christ-centered. We follow the historic Lutheran Liturgy and do not engage in contemporary worship or make church into entertainment. We believe that the worship of the Church is primarily God coming to us with His Word and Sacraments. We believe, teach, and confess that we receive the forgiveness of sins through the Gospel rightly preached and the Sacraments of Holy Baptism, Holy Absolution, and Holy Communion rightly administered.
Communion Practice   Divine Savior practices the Biblical, evangelical, loving and responsible practice of Closed Communion out of love and spiritual concern for all. Only those baptized Christians who have been instructed and confirmed in the Lutheran confession of the faith and who are in complete, outward, public, confessional agreement concerning the doctrines taught in Scripture may commune together. It is our fervent desire and God's intention that this Sacrament prove to be a blessing, not a curse, to everyone who partakes. Therefore, if you are interested in instruction toward communicant membership, please contact our pastor who will be happy to make those arrangements!
I have held many things in my hands, and I have lost them all; but whatever I have placed in God's hands, that I still possess. -Martin Luther
Sundays
9:00am: Bible Class and Sunday School
10:00am: Divine Service with Holy Communion using the Lutheran Hymnal
Tuesdays
10:30am – 12:00pm: Bible Study
Wednesdays
7:00pm-8:30pm: Reading and Discussion of the Lutheran Confessions
Seasonal
During the season of Advent we gather on Wednesday evenings at 7:00 for Evening Prayer
Christmas Eve Sunday School Program at 7:00pm
Christmas Day Festival Worship with Holy Communion at 10:00am
New Year's Eve Holy Communion at 7:00pm
During the season of Lent we gather Wednesdays at 7:00 for Evening Prayer
Holy Week
Maundy Thursday Holy Communion at 7:00pm
Good Friday Tenebrae at 7:00pm
The Great Vigil of Easter (Easter Eve) at 7:00pm
Resurrection Day at sunrise (no 10:00am service that day)
Other Various Events
We gather on Ascension Day (40 days after Easter) for Divine Service with Holy Communion at 7:00pm
Vacation Bible School is offered for five days each summer. Please call the church office for dates and times
Thanksgiving Day we gather for worship to praise our good and gracious God at 10:00am
Brief History of Divine Savior Lutheran Church
In March of 1982 a group of Lutheran Church-Missouri Synod members from Niwot, Colorado met with the Colorado District Mission Executive to discuss starting a congregation in Niwot. As a result of that and other contacts with area Lutherans, the District called Seminary Candidate Bruce E. Russell as Missionary-At-Large to Niwot. After his ordination on July 11, 1982 in Estacade, OR, Rev. Russell began working in Niwot to organize a Bible study in the homes of potential members who then gathered for their first worship service at the Niwot High School music room on September 26. In October a combined Lutheran Laymen's League Reformation Rally and Installation service for Rev. Russell, held in the Niwot High School gymnasium, was attended by 380 people.
Divine Savior Lutheran Church was officially organized on March 13, 1983, and called Rev. Russell to be her pastor that May. After selecting and securing a building site at the corner of Niwot Rd. and N. 83rd St., a groundbreaking ceremony and celebration was held on May 13, 1983. Dedication of the new worship facility, designed by the congregation's building committee, was held on December 2, 1984. Since then Divine Savior Congregation has continued to gather for worship, receiving God's Word preached and His Sacraments delivered and proclaiming Jesus Christ as Lord.
In 2005 Divine Savior Lutheran Church severed her ties with The Lutheran Church-Missouri Synod and now continues as an unaffiliated Lutheran congregation.
On September 15, 2013, The Rev. Bruce Russell retired after serving Divine Savior faithfully and tirelessly for 31 years. In the Divine Service that morning, the Rev. Gregory J. Schultz was installed as only the second pastor to serve Divine Savior.